SpinBicycle™ $499.00 retail DEALER PRICE INQUIRY
The worlds first lowrider bicycle with spinning wheels. Features include front and rear handbrakes, 20" frame and wheels, and our spinning wheel blades. The spin action happens when you squeeze the brakes and come to a full stop, the blades keep spinning. We spent a year figuring out how to make the blades spin really well and create a dazzling look. If you like the spinning wheels you see on cars you will be amazed at the quality of these spinning bicycle wheels. Check out the introduction video below in dial up or broadband.

Spining WHEEL SET $349 retail DEALER PRICE INQUIRY
20" Spinning wheel set for lowrider bikes include front and rear wheels with handbrakes.

VIDEO - broadband or dial-up

AXLESPINNERS™ screw onto a coaster wheel axle size 3/8X175MM 24T, which is the most common
axle size for lowriders, cruisers, bmx, and chopper bicycles. This is the original model 3-WING axle spinner set for coaster wheels. Spin it in your hand to see how well it spins, then bolt it on.

VIDEO - broadband or dial-up ORDER
How tall should you be to ride a SpinBicycle ? Riders from 4'5" to 5'11" tall.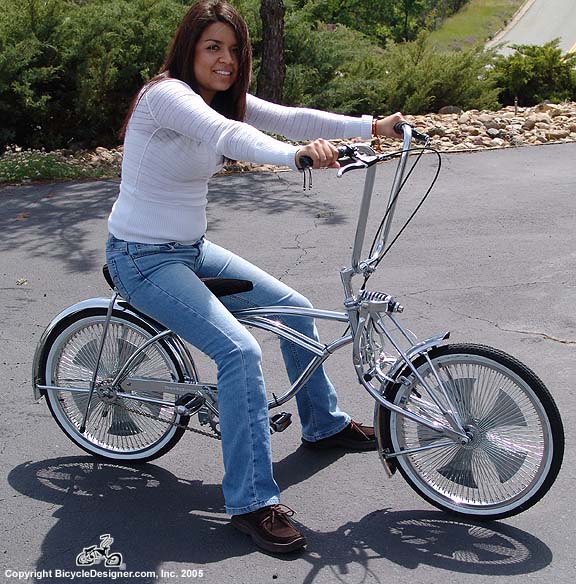 above rider is 5'1' tall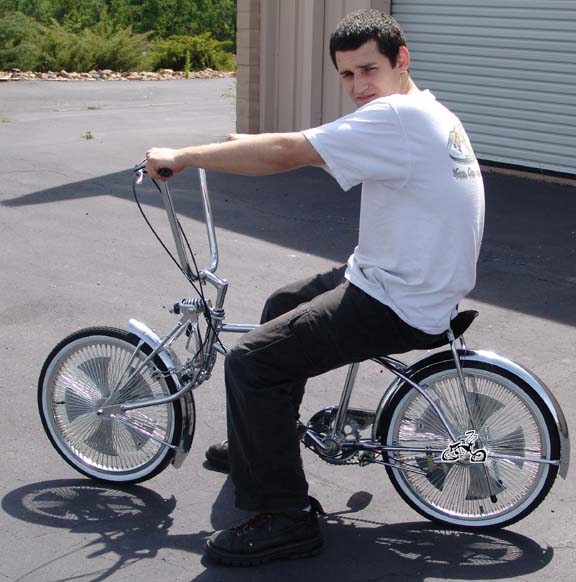 above rider is 5'11" tall